Who wouldn't want to win a new Alienware Aurora for their home? Wargaming.net, as a part of their first content update for World of Warplanes, has created a contest to win the mother of all gaming desktops in the world. Ten others during the contest duration, which is from today, December 19th, until Sunday, January 5, will win a new German Premium plane for use in-game. All you have to do is complete the four training lessons in your hangar to be eligible!
The content update of 1.1 for the title includes the addition of the Focke-Wulfs tier of planes to further give players something to aim for as they gain their experience and money battle to battle. As stated before, the contest starts today, so be sure to log in and good luck to everyone!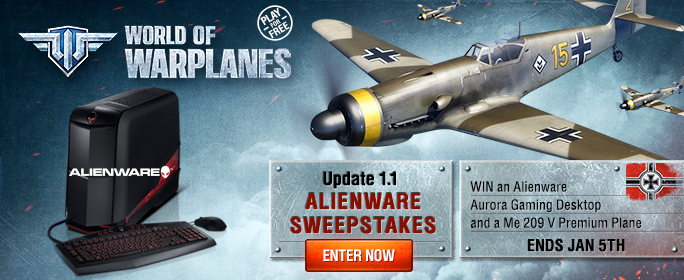 Pilots!
For an entire week following our 1.1 Update, you can become eligible to win a Dell Aurora computer or a new German Premium tier V plane simply completing all four of our Training lessons!
Start Time: Thursday, December 19, 23:59 PST (Dec. 20 02:59 EST)
End Time: Sunday, January 5, 23:59 PST (Jan. 6 02:59 EST)
The 1.1 update adds a new fourth Training lesson to the lineup, and all you have to do to be eligible for the sweepstakes is simply play all of them! One lucky player will win an Alienware Aurora Gaming Desktop, and 10 others will get a new German Premium plane in their Hangar. Players new and old are eligible to win, so register a free Wargaming account and/or download the update to get started today!
Focke-Wulfs Join the Fight

Update 1.1 for World of Warplanes introduces new aircraft, battle arenas, and achievements
December 19, 2013 — Wargaming today announced the release of Update 1.1 for its recently launched flight combat MMO action game, World of Warplanes. The update introduces a substantial amount of new content, including 14 aircraft, two battle arenas, and new epic and tiered achievements.
"This update is focused on making the player experience more enjoyable by addressing a number of technical and gameplay balance issues," said Vlad Belozerov, Director of Global Operations for World of Warplanes. "We're also excited to give players the chance to try out a new line of German fighters."
The German tech tree is bolstered with the second line of fighters, featuring nine Focke-Wulf warplanes, known for their overall balance, combat performance, and maneuverability. The latest update also enriches the game with five new premium aircraft, all Tier 5, including the Russian Curtiss P-40 M-105, the UK Miles M. 20, the US Grumman XF4U-1, and the German Messerschmitt Me 209V.
Other significant additions include two new battle arenas—Adriatic and Castle, a broad list of new achievements and customization items, as well as major improvements for mouse and joystick controls, balance tweaks, and general bug fixes.
To celebrate the first content update for World of Warplanes since launch, Wargaming is awarding all players that log into the game between December 23, 2013 and January 16, 2013, with a free in-game premium plane, the Curtiss Model 68C Hawk III. This item is available exclusively to this event.
For more information about this giveaway and other events around Update 1.1, visit http://worldofwarplanes.com/
###
About World of Warplanes
World of Warplanes is a flight combat MMO action game set in the Golden Age of military aviation. Throwing players into a never-ending tussle for air dominance, the game allows aircraft enthusiasts to pursue full-scale careers as virtual pilots, earning their wings in intense 15-vs-15 battles where supremacy in the air depends not only on a fast trigger ringer, but also coordinated teamwork.
Players can choose from three main warplane classes: swift fighters capable of engaging enemies in close dogfights, heavy fighters with deadly straight attacks and formidable armor, and ground-attack planes, able to unleash bombs and other armaments against even the most fortified ground targets.
World of Warplanes features more than 100 vehicles from Germany, the Soviet Union, USA, Japan, and Great Britain. Every warplane has multiple modular configurations, allowing for customization across weapons, ammo types, engines, and other aircraft components. These components can be mixed and matched to provide players with the ability to outfit their warbird for any combat situation or role.